Tourism in Bordeaux
2020-02-05
Place du Parlement in Bordeaux
Discover the Place du Parlement in Bordeaux and its essentials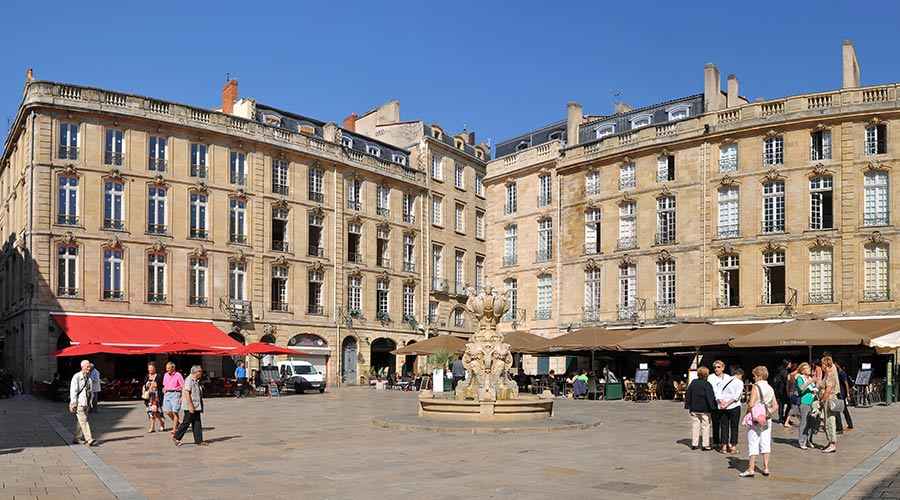 A must see in Bordeaux
Italian-style square in the Saint-Pierre district, in the historic heart of Bordeaux and a stone's throw from Place de la Bourse, Place du Parlement enjoys a central location in the city. Created under the stewardship of Tourny in the 18th century, it was then called Place du Marché Royal. Its current name refers to the former parliament of Bordeaux, built in the 15th century and destroyed in 1790.
A luminous square with its golden limestone slabs and Louis XV façades, the Place du Parlement houses the magnificent terraces of several restaurants and bars. Lively and pleasant, this square located in a pedestrian area is ideal for strolling. One block from the Sainte-Catherine shopping street, it offers a peaceful space to relax after a shopping spree. At noon, its sunshine is pleasant to linger on a terrace, whatever the season.
An essential place in old Bordeaux, the Place du Parlement is connected to the other central hotspots by several streets: the Ferdinand-Philippart street leads to the Garonne, the Place de la Bourse and the reflecting pool; rue du pas-Saint-Georges towards the alleys of the old Saint-Georges district and place Camille Jullian; rue du Parlement Saint-Pierre towards Saint-Pierre square and church; rue Parlement Sainte-Catherine towards the shops of long rue Sainte-Catherine; and rue des Lauriers towards the essential rue Saint-Rémi, one of the busiest pedestrian axes in Bordeaux, famous for its restaurants.
The architectural treasures of the square
If the golden limestone of the paving of the Place du Parlement dates only from 1980, the neoclassical facades of the buildings surrounding it are from the 18th century, as is the sumptuous fountain that adorns its center. Richly decorated, the facades of the buildings of the Place du Parlement draw their elegance in particular from their macarons carved above the windows and from their wrought-iron balconies. The Parliament Fountain is aligned with the Three Graces fountain, which adorns the nearby Place de la Bourse.
The architect behind the fountain in the Place du Parlement, Louis-Michel Garros, also designed the fountains in Place Charles-Gruet and Place Nansouty in Bordeaux. The circular basin and the figures which overhang it are of neo-baroque style. The female faces that adorn the top of the fountain were made by Bordeaux sculptor Edmond Prévot, to whom the city of Bordeaux also owes several facade statues on the Rohan palace and on the Notre-Dame-de-Bordeaux church, or still the pediment of the philomathic school. The complex was inaugurated in 1865, as part of the layout of the square in an Italian style.