Tourism in Bordeaux
2016-06-18
8 things to see and do in Bordeaux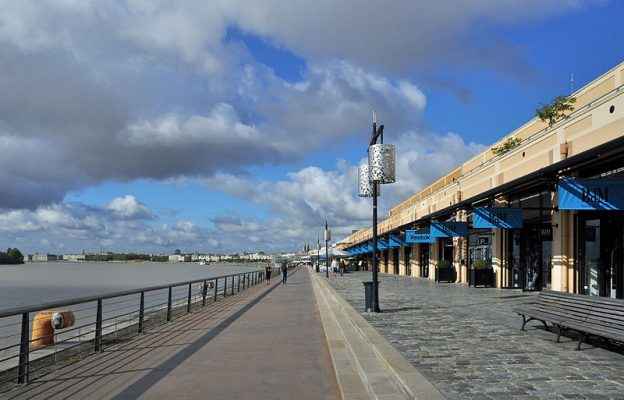 Renowned worldwide for its wine, Bordeaux is also rich in a highly developed cultural heritage which will allow you to combine discovery and pleasure in all circumstances!
Here are our eight must-sees in this city that will surprise you:
1) Take a photo at the Miroir d'eau
Created in 2006 by landscaper Michel Corajoud and located opposite Place de la Bourse, between the Quai de la Douane and the Quai Louis XVIII, the water mirror is a spectacular work that alternates magnificent mirror and fog effects. Central element of the quays, the mirror of water offers sumptuous reflections of the place of the stock exchange but also a pleasant moment of freshness during the sunny afternoons.
2) See a play at the Grand Théâtre
An emblematic monument of the city of Bordeaux, the Grand Théâtre was built in the 18th century by the Parisian architect Victor Louis. Classified as a historic monument in 1899, the Grand Théâtre is still today the ideal place to attend operas, concerts or ballets in the heart of Bordeaux.
3) Climb the Pey Berland Tower
On Pey Berland square next to the town hall, you will find the Pey Berland tower, bell tower detached from Saint-André Cathedral. Climb its 229 steps to discover the city 50 meters high and enjoy an exceptional panorama!
4) Stroll in the Public Garden
A veritable lung of the city center, the 11 hectares of oxygen in the Public Garden host many playgrounds and play areas for the whole family. Bordered by a row of mansions and welcoming within it the Museum of Natural History, an old botanical garden, and a very pleasant bar restaurant, the Orangery, the Public Garden is classified among the "Remarkable Garden of France" .
5) Navigate the Garonne
Let yourself be tempted by an original discovery of Bordeaux on the waves! Batcub, boat or even canoe trips: leave your car or your bike and change your vision of the city by visiting it this time in a boat.
6) Visit the Bordeaux Museums
As a city with a rich cultural heritage, Bordeaux offers you a multitude of possibilities. A summer downpour? Take refuge in one of its wonderful museums! Museum of Contemporary Art, Museum of Fine Arts, Museum of Decorative Arts and Design, Wine and Trade Museum ... The choices are numerous and will satisfy the most curious.
7) Have a coffee at Place des Quinconces
The largest square in Europe with some 12 hectares, this square takes its name from the trees planted in staggered rows on either side of an esplanade which hosts circuses, fairs and sporting and artistic gatherings throughout the year. you will also discover the Monument to the Girondins, a tribute to the Girondins of the Revolution.
8) Taste the Bordeaux gastronomic specialties
Not just real estate in Bordeaux!
Since Bordeaux is also synonymous with culinary heritage, it is necessary to taste its specialties: wines and cannelés are essential during a visit to the city!