Tourism in Bordeaux
2020-02-14
Place Fernand-Lafargue in Bordeaux
Focus on Place Fernand Lafargue in Bordeaux, a lively place in the city center appreciated by locals and tourists alike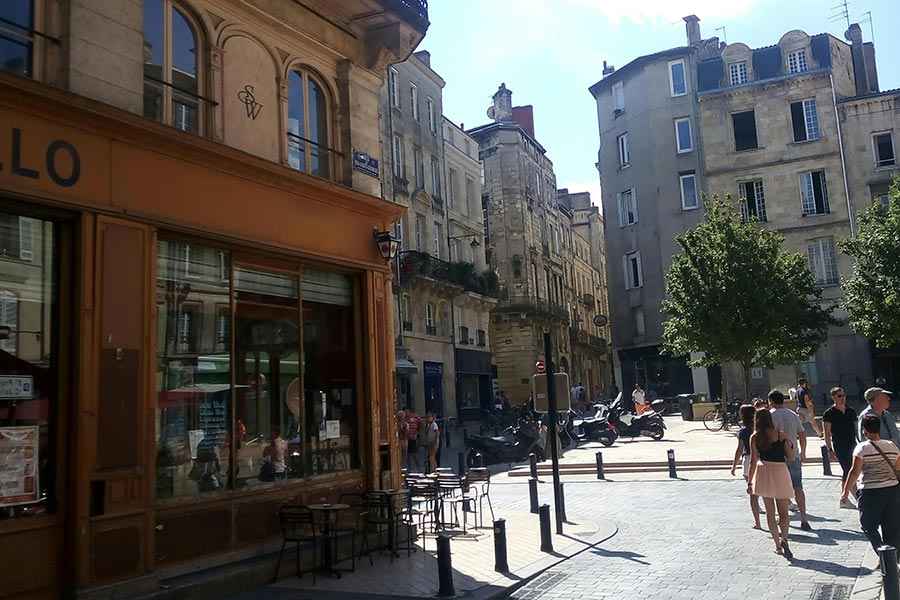 A lively and warm place
Popular with Bordeaux residents for its conviviality, Place Fernand-Lafargue is home to lively café terraces and hosts many small street concerts. At the same time joyful and relaxing, it invites relaxation to Bordeaux families as well as passing tourists. Children play ball outside of school, come to have a coffee, cool off with ice cream, sit on a bench or listen to musicians in the evening. Live at all hours, Place Fernand-Lafargue is also very well located with regard to the shopping streets and places of interest in the city center.
100 meters from Sainte-Catherine Street and its countless shops, less than 500 meters from Place Pey-Berland to the west and 350 meters from Porte Cailhau to the east. In the heart of the historic center of the city, it is easily accessible by public transport, with the tram line A which passes a few steps, on the course of Alsace-Lorraine: the Sainte-Catherine stop is 150 meters, that of the palace square within 300 meters. The Cours Victor-Hugo runs on bus line 16, whose Sainte-Catherine stop is 250 meters from Place Fernand-Lafargue. 500 meters away is the Porte de Bourgogne, where the tram lines A, B and C. meet.
The old Old Market square
Today cheerful and warm, Place Fernand-Lafargue has a dark past: former Place du Vieux Marché, it has long housed the pillory of Bordeaux. It was also the scene of other tortures inflicted by the executioner under the orders of the Jurade in the Middle Ages and until the 17th century. Its old name is, however, unequivocal: Place Fernand Lafargue was not only the theater of torture and pillory. It was also that of the meat and fish trade, market gardening products and bread.
Numerous stalls animated its perimeter until the urban redevelopments undertaken by the intendant Tourny in the 18th century. Unique halls were then built to house all the food business stands. Popular place for centuries, the Place Fernand-Lafargue knew decades of erasure: until the great works of the years 2010, it was during much of the 20th century and the dawn of the 21st a simple parking lot. It was once its decor freed from these numerous vehicles that its charm could be revealed.