Tourism in Bordeaux
2020-02-11
Place du Palais in Bordeaux
Barnes tells you all about the history and architecture of the famous Place du Palais in Bordeaux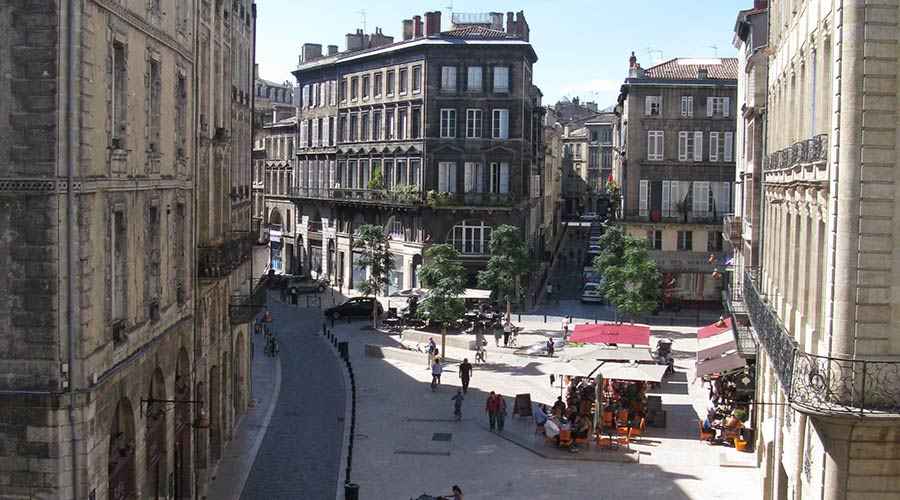 An invitation to stroll
Pedestrian since 2009, the Place du Palais has as its prestigious entrance the Porte Cailhau, an emblematic monument of Bordeaux, one of the most visited in the city, which dates from the end of the 15th century. In the immediate vicinity of the quays on the Garonne and the old stone bridge, the Place du Palais rises gently from Porte Cailhau to Rue du Palais de l'Ombrière and the Cours d'Alsace-Lorraine.
alme and discreet, this elongated square from east to west now houses some welcoming terraces which take advantage of the large pedestrian space available to stretch out in the shade of the trees. An entrance terminal at the Cailhau gate filters vehicles to allow only residents or deliveries to pass. Place du Palais is a pleasant place to stroll for families and tourists.
A little history
Former place of the residence of the Dukes of Guyenne in the Middle Ages and then of the Dukes of Aquitaine, the Place du Palais once bordered the Palais d'Ombrières, destroyed in the 19th century after being damaged by several fires. Until 2009, the square was far from being pedestrian: on the contrary, it served as a bus station for users of the bus lines connecting Pessac or Mérignac.
A little later, the lines were pushed back and the place transformed into a parking lot. It was not until the work of the 21st century that the square offered such a perspective on the Cailhau gate and an environment as calm and pleasant for pedestrians. The light colored tiles have replaced the bitumen, accentuating the luminosity brought by the Bordeaux stone typical of the facades which surround the square.
Between ancient heritage and contemporary art
Considered one of the most beautiful entrances in Bordeaux, the Cailhau gate is the architectural jewel of the Place du Palais. It stands out for its architecture from the end of the 15th century alongside the neoclassical facades of the 18th century buildings that line the square. This 35-meter high defensive gate commemorates Charles VIII's victory in Fornovo in 1495, during the First Italian War.
The building has many ornaments that refer to this battle and its protagonists, as well as chimeras and animal representations carved in stone. This monument, which features a style mixed with Gothic and Renaissance, stands alongside Place du Palais with contemporary works installed when the site was repaired in 2010: a fountain depicting five flat polished stainless steel stones on which the passer-by can come and cool off in summer ; as well as a three-dimensional map of the neighborhood, both artistic and useful for the visually impaired.