Tourism in Bordeaux
2020-02-26
Place de la Comédie in Bordeaux
Close-up on the Place de la Comédie in Bordeaux and its essentials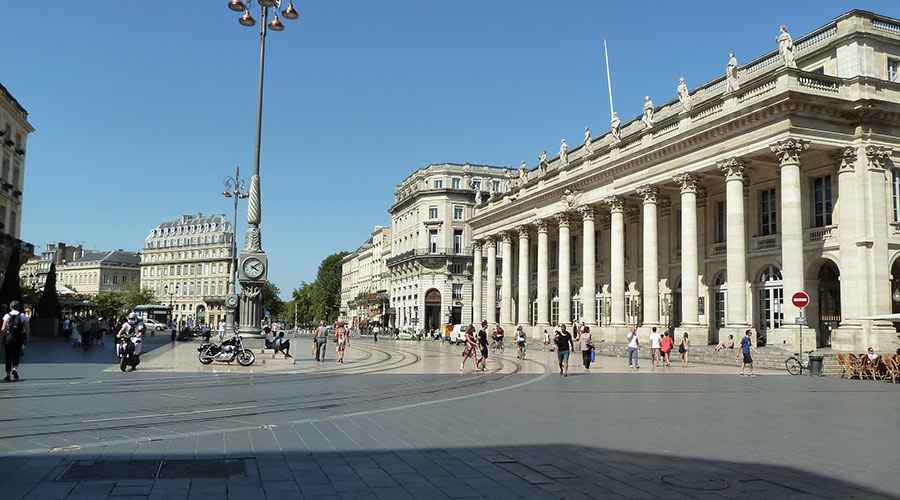 A historic Bordeaux square
On the site of a former Gallo-Roman forum, the Place de la Comédie was fitted out during the construction of the Grand Théâtre in 1978. Today in the most prestigious area of Bordeaux city center, the Place de la Comédie is home to the most beautiful hotels in the city and the most renowned restaurants, including the signs of famous chefs Philippe Etchebest or Gordon Ramsay. The square is located at the intersection of the Cours de l'Intendance and the alleys of Tourny, famous for hosting the Christmas market annually, but also other major events such as the Epicuriales. Place de la Comédie is also the ideal meeting place for strolling through luxury boutiques. Opposite the Grand Théâtre, the Grand Hôtel de Bordeaux, a 5-star Intercontinental hotel, also contributes through its remarkable architecture to the beauty of the Place de la Comédie. Among the other emblematic elements of art and architecture in the square are the two clock lamps that face each other and allow you to check the time from any place in the square. Finally, the Place de la Comédie regularly houses monumental works of art, like the sculptures of Bernar Venet or, more recently, the Sanna face of the artist Jaume Plensa.
The Grand Théâtre, a must in Bordeaux
The Place de la Comédie is of course inseparable from the Grand Théâtre, which alone justified its layout. Considered one of the most beautiful operas in the world, it stands out from afar thanks to the 12 Corinthian columns surmounted by statues of muses and goddesses. The set is built in blond Bordeaux stones, characterized by their luminosity. Inaugurated in 1780 with the representation of Athalie by Racine, the theater is also rich in sublime interiors, with a monumental staircase overhung by two statues representing the dramatic genres of tragedy and comedy. In the main performance hall, blue and gold colors dominate. In the evening, lighting highlights the building and the whole place it dominates.
The Golden Triangle, a prestigious hyper-center in Bordeaux
Place de la Comédie is one of the three prestigious sites that make up the sought-after area known as the Bordeaux Golden Triangle. A place of convergence, the Golden Triangle includes the Place des Grands Hommes in its center: it is made up of the Cours de l'Intendance to the south, the Cours Georges Clémenceau to the west and allées de Tourny to the east, which connect Place de la Comédie, Place Tourny and Place Gambetta. Eastern corner of the Golden Triangle, Place de la Comédie is also located 300 meters from Place de la Bourse and the Miroir d'eau and less than 200 meters from Quinconces. It is also joined by rue Sainte-Catherine, famous for its many shops and its animation.