Tourism in Bordeaux
2017-10-31
Discover the port of Bordeaux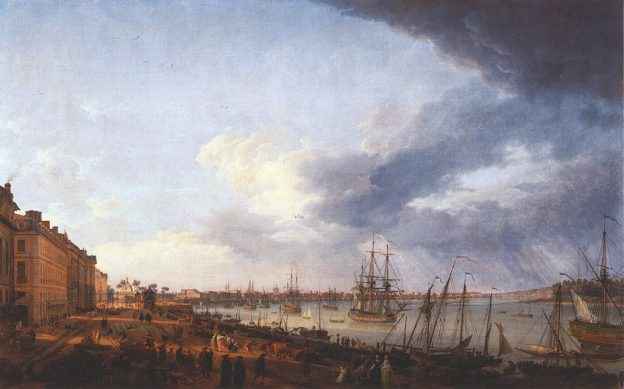 The great seaport of Bordeaux, better known as the port of the moon is an emblem of the city. It has been listed as a UNESCO World Heritage Site since 2007. After having undergone several major changes: change of name, owner, redevelopment, etc. It is now one of the city's priorities in terms of development and economic competitiveness. BARNES Bordeaux reveals the history and the main characteristics of the Bordeaux marina.
The history of the great seaport of Bordeaux
The history of the port of Bordeaux dates back to -300 BC where a community of Celtic peoples called the Bituriges Vivisques decided to settle. At the time, the port was already reputed to be a major crossroads for trade mainly passing through wines, metals, copper and pottery. The port of Bordeaux then experienced a weakening following the invasions of the Nordic peoples. It was in 1152 thanks to the marriage of Aliénor d'Aquitaine and Henri Plantagenêt that port activity was strengthened. From then on, the maritime attractiveness of the port of Bordeaux prospered thanks to the alliance between Aquitaine and the British crown.
Redevelopment of the port of Bordeaux
In 2013, work began on reorganizing the marina in Bordeaux. The main purpose of the operation was to reorganize and optimize the space in order to increase the capacity of the number of boats. The second operation was more concerned with the maintenance and technical aspect of the port (storage of wastewater, fitting out of pontoons, etc.).
A strategic location
The port of Bordeaux has a strategic location. Its activity is spread over 7 specialized port terminals: the Verdon site, Pauillac, Blaye, Bec d´Ambes, Grattequina, Bassens and finally Bordeaux. In total, Bordeaux Port Atlantique has 500 hectares available for logistics and industrial locations. The Bordeaux Maritime area intends to develop and maintain its activity, which elevates it to 7th place among French ports. No less than 9 million tonnes of goods are processed there each year.
Buy around the port of Bordeaux
The neighborhoods around the port of Bordeaux are increasing. And in particular the districts of Bassins à flots, Bacalan or Bordeaux Bastide. New residences and houses for sale are teeming, businesses are setting up there and families are enjoying it.
This is the case, for example, in the Bassins à Flots district where real estate is experiencing a certain revival. In total, no less than 160 hectares border the north of Bordeaux, from Bacalan to the Quai des Chartrons and the living environment is renowned for being very pleasant.